Contacts are your business connections or customers who will be interested in receiving coupons from you.
To add an individual contact, click on the "Contacts & Lists" button under the business menu as shown in the image below: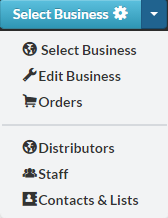 Click on "Manage Contacts".

How to Add an Individual Contact:
Click on the "Add New Contact" button to add a new contact. Fill in the details of your contact taking note that the email address field is mandatory.
Click on the "Create Contact" button, which will add your contact. You can view all your contacts by clicking on the "Manage Contacts" button again.
How to Add an Individual Contact to a Distribution List:
In the list showing your contacts, click on the "Manage Subscriptions" button under the Action heading.
The "Manage Subscriptions" page has three sections which include the following:
Contact Details – This shows the details of a selected contact.
Current Subscriptions – This shows the distribution lists that the selected contact belongs. You can remove a user from any distribution list by clicking on the "unsubscribe" button.
Add Subscriptions – You can add a selected contact to more distribution lists in this section. This section lists all the available distribution lists. Click on the "Subscribe" button to make a selected contact part of the distribution list.