Note: This section applies only to coupons promoted through email campaign and tracking-enabled options(personalized coupons). Coupons that are tracking enabled will provide newsletter registration and coupon download form. Your customers will not be able to download the coupon unless they have access. One way for your customers to gain access is to request the access from coupon download page. Request submitted by your customers will be available to you on your coupon dashboard.
Visit the offers listing page by clicking the "Coupons and Offers" menu item.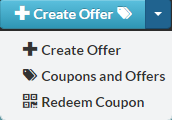 Select the offer you want to process for approvals for by clicking on the dashboard icon.

On the Offer Dashboard click on Issue coupon to see pending approvals. Click on the "Approve Coupon Request" (✓ button) to approve or on the "Reject Coupon Request" ( × button) to reject the coupon access request.