QponCloud allows you to create coupons online.  This article explains the basic steps to a create coupon and also explains the various options available to you.
Create Coupon
There are two easy steps to create a coupon on QponCloud website.
1) Define offer and coupon- Add your offer. Define title, subtitle, duration and terms and condition for your offer. Select template for creating coupons for this offer.
2) Select coupon distribution options and payments- Final step in coupon creation is about defining options for distribution (optional) and making payments (if applicable)
The following sections explain how to create a coupon on QponCloud in detail.
Plan
Before you create your offer and coupons, it is important to review requirements and plan accordingly. There are a few questions, which will help you select the appropriate options for your need. Please visit the How To Plan Coupon Campaign section.
Before You Proceed
Login to your QponCloud Account
Select your business. If required, add your business
Make sure that your business name, address and other contact details are accurate
Define Your Offer
The first step in creating a coupon offer on QponCloud is to define your offer. Click on the "Create Offer" menu.

Provide a short offer title (must be less than 24 characters) e.g. "$5 Off " or "Buy One Get One Free". Provide subtitle for your offer, e.g. "On orders over $25″ or "Same of lesser value". Please note taht an offer will not be visible before the start date. Provide the offer description and terms. Please ensure you provide all terms and conditions for your offer. Select the coupon template matching your business offer. QponCloud will display templates suitable for your business. Please make sure the correct "business catetory" is selected on the business page, as templates displayed are only relevant templates for selected business category. Use navigation buttons to view all available templates and select the most appropriate option. Click the "Save" button to save the offer and coupon template.
Note: Each template has a Price indicated in USD, which will be applied automatically during checkout. QponCloud offers both paid (premium) and free templates.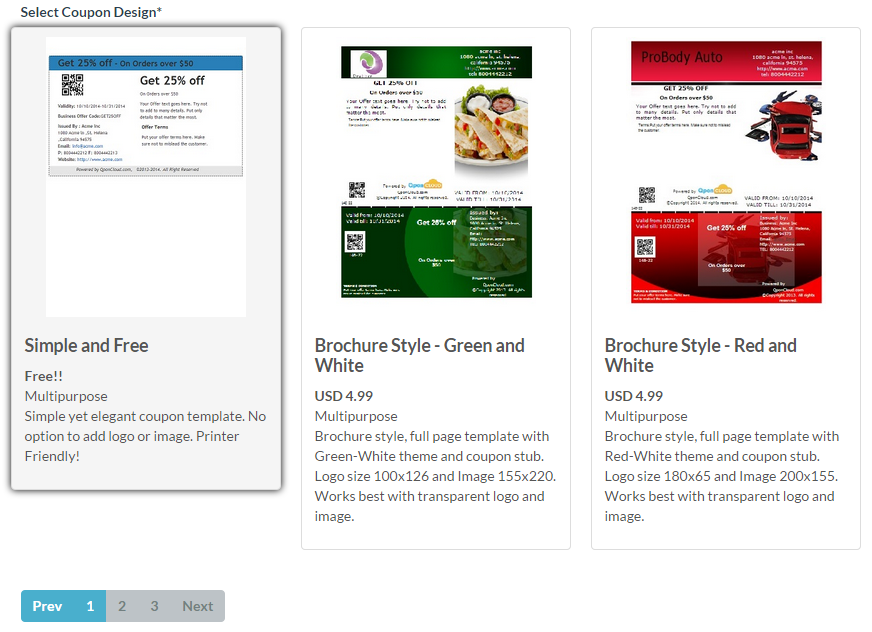 Please read the article on Understanding coupon templates if you need more details.
Once offer is saved, you will be taken to the "Publish Offer" page.
Publish Offer
Publishing an offer is the final step in Coupon Creation. Without publishing the offer, you cannot share your offer with customers and no one will be able to see your offers on the internet.
The publish page will provide you option to distribute coupon, promote etc. Please note that options and prices shown below may change.We will constantly add more options to provide better distribution and promotion for your coupons.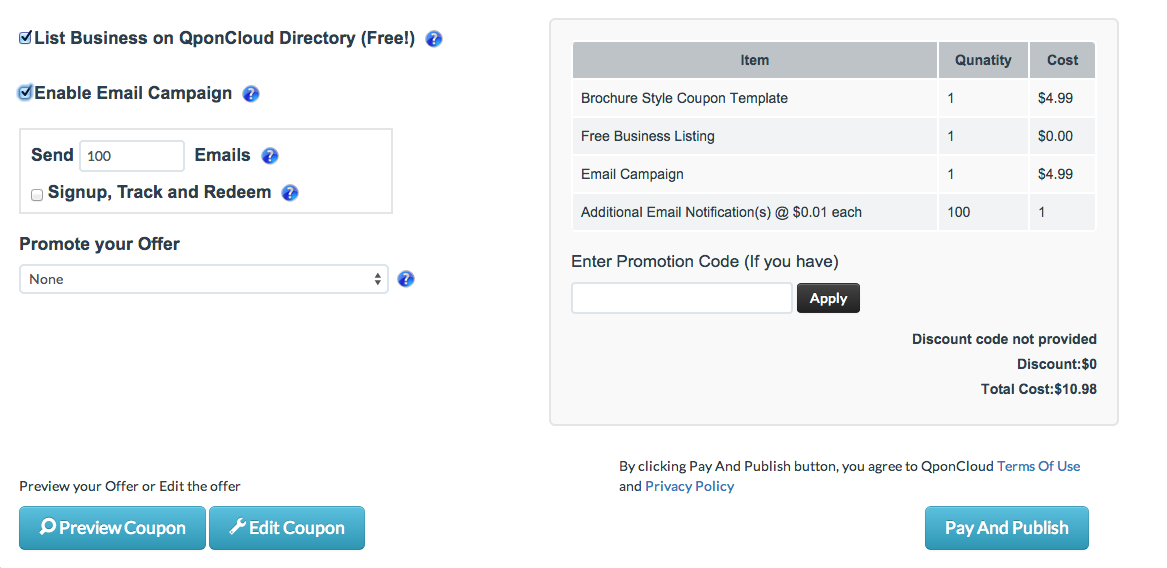 Free Business Listing
While publishing coupon, you have the option to list your business on the QponCloud Business Directory for free. By listing your business on QponCloud directory, your business will get more visibility. There is no fee for basic listing.
Email Campaign
If you have captured email addresses of your customers and you want to drive repeat business, you can do so by purchasing the Email Campaign option. Your coupon will be sent via email to your customers. By far this is most effective way of sharing coupons and driving repeat business.
Email Signup and Coupon tracking
Email signup and tracking requires the Email Campaign feature. Email Signup gives a signup form for your offer coupons. Your customers can get access to coupon only when they sign up for receiving newsletter and offers. This is a very effective mechanism to build your customer database for sharing offers and discounts in the future. This feature also comes with tracking and one time use setup. When customer presents this coupon, you can redeem this coupon via Coupon Redemption page. This will mark coupon used and will not allow customer to use the coupon again.
This feature makes your coupon Personalized for the customer. This Personalized Coupon will contain the customer name, email and/or phone number for identification. You can also use this feature for Gift Certificates and Loyalty programs.
Promote Coupons
When you publish coupon via QponCloud, your offer is shared on social media and with our channel partners. Though for better and faster results, we highly recommend you to consider Paid Promotions feature. Promoted offers are shared on social media, search engines, blogs and popular websites. QponCloud manages the promotion budgets across all mechanisms (social media, search engines etc.) based on trend,  effectiveness and popularity.
If you have a promotion code, provide it on the checkout page. QponCloud will display the selection and cost on this page.
Note: If you are publishing a Free Coupon Offer, you have to enure that you are using the free template on the coupon design page. Click on Edit Coupon to make the changes to template selected. Also, make sure that you are not using paid features like email campaign and promotions.
Important: QponCloud reserves the right to review Coupons to ensure they do not violate our terms of use. Please read our "Terms of Use" to ensure that you are not violating our coupon publishing rules. It may take 2-3 business days for our staff to review coupons.