The distribution list is a list of contacts. It allows you to group your customers for targeted offers.
To create distribution list, click on "Contacts & Lists" under the business menu as shown in the image below: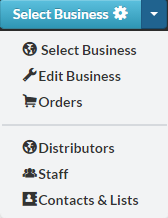 Click on "Manage Lists" and then "Add New List" buttons.

Provide the list name, which is mandatory and input the list description as well. Click on "Create List". This button will create your new distribution list.
You can now add individual contacts to your newly created list or import contacts into a newly created list. Click here to learn more on how to add individual contacts to a distribution list. If you have a large list of contacts, you can use the import feature to import and add them to the list(s). Click here to learn more on how to import contacts into a distribution list.