QponCloud offers templates to design your coupons. You can select our different templates on "add offer" or "edit offer" pages. Coupon cloud offers free template as well as premium (paid) templates. If you are an enterprise customer,  you can also create templates for your business and have them provisioned for your access. QponCloud also offers paid service for custom coupon template creation.
Templates Offered
Free Templates – Free templates donot support logo or image uploads
Brochure Style Templates – Brochure style templates have the option to upload logo and image. Coupon can accommodate larger text content for your offers. Bottom of the template includes a detachable coupon provision.
Premium Coupon Templates – These are postcard shaped templates with image and logo options. These are perfect for content that have smaller text.
Specialized Coupon Templates – These coupon templates are industry specific coupon templates (e.g. Air Duct Cleaning, Plumbing, Oil Change, Fitness etc)
Most of the templates would require you to upload images for the logo and main image. Here is an explanation of how the various fields of your offer appears on a coupon that has been created using brochure style template.
Template Fields
The image below displays how your offer details will look like in a coupon.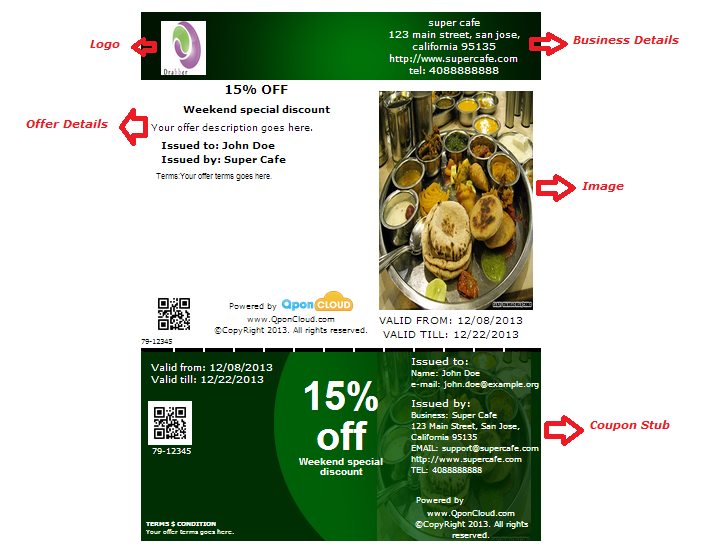 Logo
The Logo is an optional field. Most of our templates support uploading of your own logo except the free templates. Logos help in improving coupon appearance. Each template has a different recommended aspect ratio for logos. When selecting a template, you have to consider the aspect ratio of your logo.
Business Details
Business details are undeniably critical, as they provide the location and other details where the customer can avail the coupon. Home based businesses have an option to hide address on coupon (See Edit Business section). Ensure that business details such as the name and address are accurate before publishing the coupon.
Offer Details
Offer details include the offer title, sub-title, description and terms.
Image
A few of our templates in the Brochure style and Premium categories support uploading your own image for your coupon. You can also consider using specialized coupon templates, which come with industry specific images.
Validity
The "Validity" field indicates the start and end date of the offer. The coupon will not be valid before the start date.
Issued To
Only tracked coupons have an "Issued To" field. This field will have the name, phone and email of the customer to whom this coupon is issued.
Coupon Stub
The Coupon stub is only available in brochure style coupons.