You can change the personal information associated with your QponCloud account. To change account profile details, click on "My Profile" under the user menu (Please note that, QponCloud will show your First name or Email address in the user menu)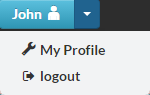 Update your profile information. Click on "Save" to save your changes. Please note that, if you have registered via Facebook login, your QponCloud.com profile will most likely be incomplete.
Facebook Integration
If you want to use Facebook integration to login to QponCloud account, you can link your Facebook account with your existing QponCloud account. This option is useful for users who did not select Facebook login at the time of registration or login. You can link the accounts by clicking the "Link Facebook Account" button. You will be redirected to the Facebook login page and on successful login, your facebook profile will be linked to your QponCloud account.
In case you have Facebook profile linked to your account and you don't want QponCloud to use your Facebook login, you can click on the "Unlink Facebook Account" link to remove Facebook login support on QponCloud.